Mit der World Series of Poker (WSOP) präsentiert das Absolute im Poker: 2015 findet bereits die 46 Auflage der World Series of Poker statt. Wie bereits 2014 ist das Rio Suit Hotel und & Casino in Las Vegas der Austragungsort.
Hier finden Sie alle Informationen zur WSOP 2015 - World Series of Poker 2015, dem allergrößten Poker Turnier der Welt in Las Vegas.
Welcher Pokerspieler träumt nicht davon, bei dem Main Event der WSOP 2015 mitzuspielen und das Bracelet zu gewinnen, die es bei diesem Turnier zu holen gibt. 2014 hat Martin Jackposon alle ausgespielt und am Ende mehr als 10 Mio. $ gewonnen. 2015 könnten Sie derjenige sein, der das prestigeträchtige Main Event gewinnt.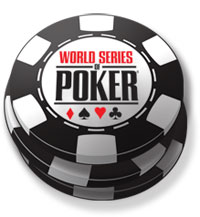 Satellites für das WSOP 2015 Main Event werden von den größeren Online Poker Plattformen angeboten: u.a. TitanPoker, PartyPoker und PokerStars.
Bei PartyPoker können Sie mit etwas Glück kostenlos einen Sitz bei der World Series of Poker 2015 gewinnen! Sie haben richtig gelesen: Sie können sich Ihren Platz bei der WSOP 2015 sichern – ohne dafür einen Cent auszugeben!
Die Aktuellen Neuerungen der World Series of Poker 2015:
Das Big One for One Drop war dasTop Ereignis der WSOP. 2014 w1rd das Big One for One Drop nicht statt finden, dafür wird es das Little One for One Drop geben mit einem Buy-In von $1.111 mit einer Unlimited-Re-Entry-Möglichkeit.
Kompletter Turnierplan der WSOP 2015


Wed, May 27th 12 Uhr 1-Day #1 Casino Employees No-Limit Hold'em $565
Wed, May 27th 16 Uhr 4-Days #2 No-Limit Hold'em $5.000
Thu, May 28th 12 Uhr 3-Days #3 Omaha Hi-Lo 8 or Better $1.500
Thu, May 28th 16 Uhr 3-Days #4 No-Limit Hold'em Shootout $3.000
Fri, May 29th 10 Uhr 5-Days #5A THE COLOSSUS No-Limit Hold'em $565
Fri, May 29th 18 Uhr 5-Days #5B THE COLOSSUS No-Limit Hold'em $565
Sat, May 30th 10 Uhr 4-Days #5C THE COLOSSUS No-Limit Hold'em $565
Sat, May 30th 18 Uhr 4-Days #5D THE COLOSSUS No-Limit Hold'em $565
Sun, May 31st 11 Uhr 2-Days #6 Hyper Hold'em $1.000
Sun, May 31st 16 Uhr 3-Days #7 Limit 2-7 Triple Draw Lowball Championship $10.000
Mon, Jun 1st 12 Uhr 3-Days #8 Pot-Limit Hold'em $1.500
Mon, Jun 1st 16 Uhr 3-Days #9 Razz $1.500
Tue, Jun 2nd 12 Uhr 3-Days #10 Heads Up No-Limit Hold'em Championship $10.000
Tue, Jun 2nd 16 Uhr 3-Days #11 Limit Hold'em $1.500
Wed, Jun 3rd 12 Uhr 3-Days #12 No-Limit Hold'em 6-Handed $1.500
Wed, Jun 3rd 16 Uhr 3-Days #13 Omaha/Seven Card Stud Hi-Lo 8 or Better $2.500
Thu, Jun 4th 12 Uhr 3-Days #14 No-Limit Hold'em Shootout $1.500
Thu, Jun 4th 16 Uhr 3-Days #15 Pot-Limit Omaha Championship $10.000
Fri, Jun 5th 10 Uhr 5-Days #16A MILLIONAIRE MAKER No-Limit Hold'em $1.500
Sat, Jun 6th 10 Uhr 4-Days #16B MILLIONAIRE MAKER No-Limit Hold'em $1.500
Sat, Jun 6th 16 Uhr 3-Days #17 Razz Championship $10.000
Sun, Jun 7th 12 Uhr 2-Days #18 Turbo No-Limit Hold'em $1.000
Sun, Jun 7th 16 Uhr 3-Days #19 No-Limit Hold'em 6-Handed $3.000
Mon, Jun 8th 12 Uhr 3-Days #20 No-Limit Hold'em $1.500
Mon, Jun 8th 16 Uhr 3-Days #21 Omaha Hi-Lo Championship $10.000
Tue, Jun 9th 12 Uhr 3-Days #22 No-Limit Hold'em $1.000
Tue, Jun 9th 16 Uhr 3-Days #23 No-Limit 2-7 Draw Lowball $1.500
Wed, Jun 10th 12 Uhr 3-Days #24 H.O.R.S.E. $1.500
Wed, Jun 10th 16 Uhr 4-Days #25 No-Limit Hold'em 8-Handed $5.000
Thu, Jun 11th 12 Uhr 3-Days #26 Pot-Limit Omaha $1.000
Thu, Jun 11th 16 Uhr 3-Days #27 Seven Card Stud Championship $10.000
Fri, Jun 12th 10 Uhr 5-Days #28A MONSTER STACK No-Limit Hold'em $1.500
Sat, Jun 13th 10 Uhr 4-Days #28B MONSTER STACK No-Limit Hold'em $1.500
Sat, Jun 13th 16 Uhr 3-Days #29 No-Limit 2-7 Draw Lowball Championship $10.000
Sun, Jun 14th 12 Uhr 3-Days #30 No-Limit Hold'em $1.000
Sun, Jun 14th 16 Uhr 3-Days #31 Pot-Limit Omaha Hi-Lo $3.000
Mon, Jun 15th 12 Uhr 3-Days #32 No-Limit Hold'em 6-Handed $5.000
Mon, Jun 15th 16 Uhr 3-Days #33 Limit 2-7 Triple Draw Lowball $1.500
Tue, Jun 16th 12 Uhr 4-Days #34 Split Format Hold'em $1.500
Tue, Jun 16th 16 Uhr 3-Days #35 H.O.R.S.E. $3.000
Wed, Jun 17th 12 Uhr 3-Days #36 Pot-Limit Omaha $1.500
Wed, Jun 17th 16 Uhr 3-Days #37 No-Limit Hold'em 6-Handed Championship $10.000
Thu, Jun 18th 12 Uhr 3-Days #38 No-Limit Hold'em $3.000
Thu, Jun 18th 16 Uhr 3-Days #39 Ten-Game Mix $1.500
Fri, Jun 19th 10 Uhr 3-Days #40 Seniors No-Limit Hold'em Championship $1.000
Fri, Jun 19th 16 Uhr 3-Days #41 Seven Card Stud Hi-Lo Championship $10.000
Sat, Jun 20th 12 Uhr 4-Days #42 Extended Play No-Limit Hold'em $1.500
Sun, Jun 21st 10 Uhr 3-Days #43 Super Seniors No-Limit Hold'em $1.000
Sun, Jun 21st 16 Uhr 5-Days #44 THE POKER PLAYERS CHAMPIONSHIP $50.000
Mon, Jun 22nd 12 Uhr 3-Days #45 No-Limit Hold'em $1.500
Mon, Jun 22nd 16 Uhr 3-Days #46 Pot-Limit Omaha 6-Handed $3.000
Tue, Jun 23rd 12 Uhr 3-Days #47 No-Limit Hold'em $2.500
Tue, Jun 23rd 16 Uhr 3-Days #48 Seven Card Stud $1.500
Wed, Jun 24th 12 Uhr 3-Days #49 Pot-Limit Omaha Hi-Lo 8 or Better $1.500
Wed, Jun 24th 16 Uhr 3-Days #50 Limit Hold'em Championship $10.000
Thu, Jun 25th 12 Uhr 3-Days #51 No-Limit Hold'em 6-Handed $3.000
Thu, Jun 25th 16 Uhr 3-Days #52 Dealers Choice $1.500
Fri, Jun 26th 12 Uhr 3-Days #53 Ladies No-Limit Hold'em Championship $10.000
Fri, Jun 26th 16 Uhr 3-Days #54 Pot-Limit Omaha Championship $10.000
Sat, Jun 27th 12 Uhr 3-Days #55 Draftkings 50/50 No-Limit Hold'em $1.500
Sat, Jun 27th 16 Uhr 2-Days #56 Turbo No-Limit Hold'em $5.000
Sun, Jun 28th 12 Uhr 3-Days #57 No-Limit Hold'em $1.000
Sun, Jun 28th 13 Uhr 2-Days #58 High Roller for ONE DROP $111.111
Mon, Jun 29th 12 Uhr 3-Days #59 No-Limit Hold'em $1.500
Mon, Jun 29th 16 Uhr 4-Days #60 High Roller Pot-Limit Omaha $25.000
Tue, Jun 30th 10 Uhr 4-Days #61A The Little One for One Drop $1.000
Tue, Jun 30th 16 Uhr 4-Days #61B The Little One for One Drop $1.000
Wed, Jul 1st 12 Uhr 3-Days #62 Bounty No-Limit Hold'em $1.500
Wed, Jul 1st 16 Uhr 3-Days #63 H.O.R.S.E Championship $10.000
Thu, Jul 2nd 12 Uhr 2-Days #64 WSOP.com Online No-Limit Hold'em $1.000
Thu, Jul 2nd 16 Uhr 3-Days #65 Seven Card Stud Hi-Lo 8 or Better $1.500
Fri, Jul 3rd 10 Uhr 3-Days #66A LUCKY SEVENS No-Limit Hold'em $777
Fri, Jul 3rd 16 Uhr 3-Days #67 Dealers Choice Championship $10.000
Fri, Jul 3rd 18 Uhr 3-Days #66B LUCKY SEVENS No-Limit Hold'em $777
Sun, Jul 5th 12 Uhr 10-Days #68A No-Limit Hold'em MAIN EVENT $10.000
Mon, Jul 6th 12 Uhr 10-Days #68B No-Limit Hold'em MAIN EVENT $10.000
Tue, Jul 7th 12 Uhr 10-Days #68C No-Limit Hold'em MAIN EVENT $10.000