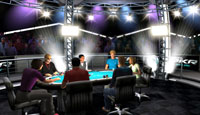 This went up to 12 or 13 people for the first iteration of the game and it's grown and grown from there. The 30-strong team has been busy integrating the new website and the PKR game software, you'll see a list of your friends, what they've been up, who has installed what games and who has changed their status. You can find out if your friends are online, where they're playing and what they've just won. It'll also let you know if they register for a tournament and with a single click on the news fees you can open the tournament lobby and register for the same game.
But it's not just the PKR website that's been given a facelift. PKR Version 1.9 of the game software has a flash front-end and is linked in a two-way relationship with the website. You can now access the website, check your status and alter what appears on your news feed directly from the game software and launch the game directly from the website. And while there aren't any new poker variants in PKR Version 1.9 (expect to see more before the end of the year), the changes aren't just cosmetic. Your Avatar's room is now dependent on your loyalty level, so if you've just started on PKR, or you're a play-money-player, you'll get the default room that everyone has used in previous version. As you move up, you'll get increasingly cooler and smarter rooms, and extra save slots so you can switch outfits or Avatars with a single click. You get one save slot for each loyalty level you move up, so if you're a diamond player, for example, you get the use of five save slots.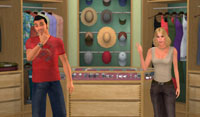 After completing such a mammoth task, you might think it would be an excellent time for the development team to kick back and enjoy a lazy summer, but nothing could be further from the truth. In fact, Walters goes on to say that PKR Version 1.9 is merely a stepping stone to a whole raft of exciting new developments due before the end of this year. Top of the list is multi-tabling and the new plans are pretty ambitious. You can play four tables at the moment, Walters says, but it takes a massive amount of concentration and you certainly wouldn't want to do anymore. There's key information missing as well. I have no idea what your stake is, I don't what mine is, all I can do is play position and not really make any moves. Its okay for grinding out sit-and-goes but not so good for the serious high stakes player. PKR recognized this and PKR are going to fix it.
Fixing it actually involves throwing away the current multi-tabling system and redoing it from scratch, so that you'll be able to scale and drag game windows and, hopefully, play as many as you want simultaneously. However, Walters admits there is a question of technology. PKR is all about delivering an Immersive 3D poker experience and you'll need a pretty powerful piece of kit to open up eight tables in full 3D. PKR talked a bit about maybe switching down to 2D tables when you've got more than four open, but we're still deciding the best route to go down. The good news, if you're a serious cash player, is that PKR is totally committed to getting multi-tabling sorted - and soon.
And that's not the only exciting news for cash players. PKR has always been at the forefront of innovation and intends to build on this by introducing a number of features that are available in the live arena, but currently not on any other online site. Straddles, three-blind games, side bets, the ability to act in the dark and even running it twice are all option that PKR want to roll out before of the end 2009. And, with the addition of planned new game variants, Walters is looking forward to a time when you'll be able to play H.O.R.S.E. and even sit down at dealer's choice cash table, although he does add that he would be surprised if that last feature is rolled out before the end 2009. PKR got add the game variants first, he says.
Another first for PKR is the planes Deal Wizard, which will give you the opportunity to instigate, vote for a set deals on tournament final tables without the knees for official help. This feature won't be added to every tournament - PKR doesn't want prestigious events like >The Masters getting chopped - but it will be added to the majority of PKR regular tournaments. The Game will freeze while you try to reach an agreement and if you do, the deal will be made instantly.
You can expect new graphical improvements as well, with updated location promised and an intriguing new spin on railing. Choose to observe a final table and your actual avatar will appear behind the rail, giving your friends a boost of moral support and a much more visual idea of a crowd watching than you currently get from the rail chat. Because of technology limitation, the number of actual railers will probably be limited to single figures and, as a player, you can elect to turn the feature on or off because, according to Walters, the last thing we want is the railbirds slowing down your machine as your machine renders another 40,000 polygons!
But if you'd prefer to show off to your mates rather than rail them as they scoop another tournament title, you'll be interested in the final.
For more information about PKR Poker please visit the PKR website.